7"s The Charts - As Years Go By
Note: 'NR' stands for 'Not Released'.
More detailed information on the charts, their estimation and records sales is available at
BeatZenith
and
Wikipedia
.
Browse:
The single of the day
'Doo Doo Doo Doo Doo (Heartbreaker)' was released as a 7" single in the US exactly 46 years ago on December 15, 1973, where it peaked at #15.

Written by Mick Jagger and Keith Richards, 'Doo Doo Doo Doo Doo (Heartbreaker)' was the second single from 'Goats Head Soup' in the US and some European countries but the UK.
Its lyrics relate two stories: one based on the true story of New York City police shooting a boy because they mistook him for a bank robber, and the second of a ten-year-old girl who dies in an alley of a drug overdose. After telling the story of the police shooting the wrong person, Jagger sings, "You heartbreaker, with your .44, I want to tear your world apart." The .44 magnum cartridge had been recently made famous by the 1971 movie Dirty Harry, in which Harry Callahan uses "the... [+]


---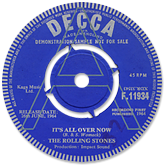 About the songs

Nearly 80 songs recorded by the Rolling Stones entered either the UK or US charts since 1963, twelve of them peaking at #1 ['Satisfaction', 'Get Off Of My Cloud', 'Paint It, Black' and 'Honky Tonk Women' were #1 in both countries].

The early years also were the most prolific and, whereas most titles were not yet penned by the Jagger-Richards tandem, record labels Decca [in the UK] and London [in the US] would issue singles at a frantic pace, building the band's reputation as the Beatles' most serious threat.

However, no global marketing strategy would emerge before the 70's, and both countries cultivated their differences in their respective discographies, as would their affiliates in other parts of the world.

The richness and diversity of the Rolling Stones singles discography is mainly due to the fact that, during the 60's, Decca would consider singles an independent market from the LPs' one, whereas London would use this format as a 'lift' for album sales. Therefore, British singles would offer non-album tracks [except for compilations], and Decca England would pass on a few US releases, while the US would opt for different B-sides and be a little more productive.

US exclusive couplings and singles would however often be released on Decca in Europe, notably in Scandinavia for which UK would exclusively press 'export' singles [Scandinavian countries also pressed their own records and imported regular UK releases, see the Danish, Swedish and Norwegian discographies].

Each song
from the charts offer comprehensive details on its:
history
authors & recording credits
7" PS worldwide gallery
cover information
additional info [lyrics, video, sheet music, links]
In order to access all 7" releases for a specific title, use the
search engine
above.
Members
can access any song at anytime.