The Lantern

|

The Rolling Stones 10"s, 12" & CDS singles worldwide discography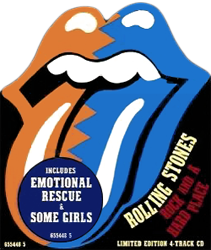 This page concentrates on official small format releases [10"s, 12"s and CD singles / EPs] by The Rolling Stones which offer exclusive and interesting artworks unavailable on the 7" format.

By the end of the 70's, the disco wave had made a must of the 12" maxi single format [enabling a greater sound and extended remixes] among DJs and collectors, but this market really boomed in the early 80's, when virtually any new - studio recorded - single would also be released on 12", along with its generally boring dub version or other mixes. 12" PS artwork would generally be the same as for their 7" counterpart, but not always, and some were no extension of an existing 7" format [eg: 'Too Much Blood' in the US].
If some extended versions [eg: 'Miss You', 'One Hit (To The Body)'] were successful and a work of art in themselves, most of the Rolling Stones remixes, especially in the 90's, failed to bring a new life for the original track, burying it instead. Although these mixes hardly made it on the dance floor, the habit lasted until 1998, generating many promo-only releases of all kinds, both on 12"s [less and less care was brought for artworks] and CDs.

The first commercial 5" CD single appeared in 1989 [with 'Mixed Emotions']. Simultaneously, a 3" CD format saw the light of the day, lasting a few years in Europe and Japan.
The 5" CD 2-track single in cardboard sleeve eventually became a standard in many European countries, as its EP version in jewel box [soon in slim case] containing up to 6 tracks [a way to add bonus tracks or/and remixes]. As the record collectors market was mature, record companies, especially in the UK, issued many CD singles in special packagings and limited editions all along the 90's.
Some artworks - like the ones for 'Wild Horses' [live] or 'Like A Rolling Stone' - were only to be found on CDS.

During the 2000's, computer and home made counterfeits / fakes popped up on Ebay while record labels less and less cared for the manufacturing of their own releases. The promos market got soon drowned, collectors and dealers lost. Consequently, titled-only sleeves - or stickered carboard sleeves - used for promo silver CDS have been voluntarily omitted here due to their dubious origin or lack of interest.

As of today, internet has definitely changed the face of the record market which mainly survives through the production of collectors items and endless luxuous reissues [eg: 4 box sets of CD singles imitating their original 7"s packages], but can still offer a few vinyl only releases of interest [10"s from the 2010's].


The Rolling Stones 10"s, 12"s + CDS discography [non-7"s artworks]
co.
view
catalogue #
titles a-side / b-side - CD-only artwork - *non-album track
ft.
rel. date
EMI PRP-8147
Emotional Rescue [+3]
12"
1980
Teldec (Decca) 6.20263
'Super 4 on 45' [Satisfaction + 3]
12"
11/1983
EMI 104-04504
Too Much Blood / Undercover *
12"
1983
WEA PR 692 / 0-96902
Too Much Blood [3 versions]
12"
12/1984
CBS CAS 2340
One Hit To The Body
12"
05/1986
Polygram 02
Satisfaction / Lady Jane *
1989
CBS 655193 5
Mixed Emotions [tin can]
08/1989
CBS CAS 1765
Mixed Emotions [Chris Kimsey mix 6:10 / 4:00] *
12"
08/1989
CBS 10EP 3100
Mixed Emotions
08/1989
CBS LPMI-653316
Mixed Emotions [+3]
12"
08/1989
CBS 655448 5
Rock And A Hard Place [+3]
11/1989
CBS SAMP 1385
Terrifying [3 mixes] + Wish I'd Never Met You *
12"
02/1990
CBS 656892 5
Ruby Tuesday [live] *
05/1991
MIX 096
Let's Spend The Night Together
12"
11/1991
Virgin STONES1
The Jump Back EP [Start Me Up + Angie + Brown Sugar] *
11/1993
Virgin STONES1
Start Me Up *
12/1993
Virgin STONES2
Brown Sugar *
12/1993
Virgin STONES3
Angie *
12/1993
Virgin STONES4
Respectable *
12/1993
Virgin DPRO-14180
Love Is Strong [album version / B.C. remix]
06/1994
Virgin DPRO-14229
You Got Me Rocking
09/1994
Virgin DPRO-14237
Out Of Tears [D.W edit / B.C. remix edit + album version]
10/1994
Virgin SA 8074
Out Of Tears [B.C remix edit + album version] *
12"
10/1994
Virgin DPRO-12688
Sparks Will Fly [Radio clean + album version] *
12/1994
Virgin VSCDTJ 1518
You Got Me Rocking [the Paul Oakenfold remixes]
12"
01/1995
Virgin Y-38468
You Got Me Rocking [various mixes] + Jump On Top Of Me
01/1995
Virgin VSCDJ 1539
I Go Wild [album version]
06/1995
Virgin VSCDE 1562
Like A Rolling Stone / Black Limousine
10/1995
Virgin PCD-0679
Start Me Up *
11/1995
Virgin VSCDJ 1578
Wild Horses [live in Tokyo]
01/1996
Virgin SA 3693
Black Limousine / All Down The Line *
03/1996
Virgin PCD-0862
Angie *
08/1997
Virgin VJDP-10262
Angie / Silver Train
08/1997
Virgin VSCDT 1653
Anybody Seen My Baby? [3 mixes]
12"
09/1997
Virgin DPRO-12784
Flip The Switch*
12/1997
Virgin VSCDJ 1667
Saint Of Me [radio edit + album version]
12/1997
Virgin VSCDT 1700
Out Of Control [4 mixes]
12"
05/1998
Virgin VSCDYJ 1700
Out Of Control [album radio edit + 2 remixes]
05/1998
Virgin CDVDJX 2889
Gimme Shelter [live]*
11/1998
Virgin CD DIF 359
Don't Stop [edit + album version + Call Out Hook] *
09/2002
Virgin RS-401
Don't Stop [edit + album version + Call Out Hook] *
10/2002
Virgin 7087 6 17564 2 5
'Four New Licks' [incl. 'Don't Stop' 2 mixes + 3] *
10/2002
Abkco DEVIL96662RC
Sympathy For The Devil [3 remixes] *
01/09/2003
Abkco 9818864
'Singles 1963-1965' [box set]
26/04/2004
Abkco 9820985
'Singles 1965-1967' [box set]
09/07/2004
EMI CD DIF 463
Brown Sugar [live] *
11/2004
Abkco 9827075
'Singles 1968-1971' [box set]
03/2005
Virgin 0946 3 46493 2 2
Oh No Not You Again [2 mixes]
11/2005
[NA]
Hurricane *
11/2005
Virgin 09463 38818 2 2
Streets Of Love [radio edit + album version]
01/2006
Virgin VSCDJ 1916
Biggest Mistake [3 mixes] / Rough Justice
08/2006
Abkco BIC-5004
Hot 6 [6-track promo sampler] *
2006
Polydor RSSHINE1
Shine A Light [6-track sampler] *
2008
Universal CATR-05231-2
Following The River [radio edit + album version] *
07/2010
Universal
I Love You Too Much *
11/2011
Universal 533 773-4
It's Only Rock'n'Roll / Start Me Up *
03/2012
Universal UICY 91800
Rocks Off / Brown Sugar / Angie / It's Only Rock'n'Roll / Start Me Up
20/06/2012
Polydor 3723278
Doom And Gloom [10"]
10"
23/11/2012
Polydor 5717752
Ride 'Em On Down [10" - blue vinyl]
10"
25/11/2016
Polydor 773 480 9
She's A Rainbow [10" - recorded live at U Arena Paris 25/10/17]
10"
13/04/2019
Polydor 071 483-5
Living In A Ghost Town [10" - orange and purple vinyls]
10"
26/06/2020
Universal 0872829
Steel Wheels Live (live 1989/1990) [10" - pic. disc]
10"
26/09/2020
Universal 0602435511498
A Bigger Bang Live (live 2005/2006) [10" - pic. disc]
10"
12/06/2021
* promo-only release