7"s worldwide discography

|

what the fake!?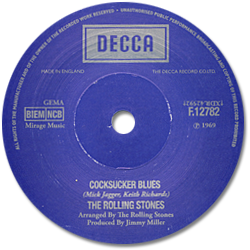 The infamous 'Cocksucker Blues' rejected by Decca in 1969 was heavily bootlegged, up to these 2007' fake Decca labels bearing the original catalogue number for 'Jumpin' Jack Flash'!

Since its creation in 2000, Stones7.com has been striving to help the collector in distinguishing the real from the fake. Because if some bootlegs may have artistic or collectable interests, fakes or imitations just don't.

Alas the internet years also have been seeing the emergence of an important number of counterfeits and other fantasy pressings - often sold almost anonymously through auction sites, and usually made 'on request'.
CDs: The ability for every computer owner to burn silver CDRs at home while major labels would parallely less and less care for the packaging of their promotional items litterally drowned such promo CDS market in a few years, raising doubts on the genuity of almost every promo CDs made after 2002, and therefore spreading a serious lack of interest in such items in the end.




















The never-ending list of South American fakes!
Vinyl did not suffer that bad, for its manufacturing process requires professional equipment, but bootlegs from Germany or Czech Rep., or Israel have flourished, with a greedy trend to copy or revamp - next to perfect - original ultra rare stuff. This mainly concerns LPs [only a few dealers would clearly state these are copies], but singles are also targetted as colored vinyl editions of 'Plundered My Soul' [so-called promo issues] for instance, or 'Cocksucker Blues' respectively issued on perfectly imitated Universal and Decca labels [see bootlegs section] showed.
Further, quality home desk printers gave ideas to some to create 'new' covers.
Here are, country by country, some information of fakes on the 7" format.
Remember one thing: it is extremely unlikely nowadays that genuine original never-seen-before picture covers pop up. I would advice you to always check this page and the country's discography when you think you cross one. Also check matrix numbers in the grooves [you can search stones7.com with these], and it may reveal fakes labels (eg: promo/test made from a stock copy).

Argentina
,

Bolivia
,

Brazil
,

Chile
,
Paraguay
---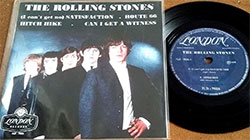 A dealer mainly [and some others buying from him] has been selling many fake PS since 2003 on Ebay [see all pix above], supposed to be London originals from these countries [for Rolling Stones but also The Beatles and later artists like Queen or Madonna]. Work is well-made: PS consist of a fake cover, wrapped into plastic - sometimes with used plastic to make it more realistic like original Brazilian EPs were, and these never-seen-before covers supposedly from Argentina, Bolivia, Chile, Paraguay or Brazil, host original Brazilian singles or EPs.
The truth is that no 60's single from 1966 onwards had a PS in Brazil, and that no cover variations exist for the Brazilian original EPs. Argentina had very few PS (see Argentinian discography). Paraguay had no releases as such, Bolivia only had one EP in 1969, and Chilean 60's titles all came out in company sleeves.
New step in this scam, since 2016, this seller produces his own 'Chilean' labels, creating or re-using Brazilian numbers and discs [eg: on the right here]. Why? Because BZ discs are easy to find and there were no such EPs in Chile; original labels are peeled off, then fakes ones stuck instead, the whole thing sold as Chilean. Same scam applies with Argentinian 7"s since 2019. Beware.
Refer to the discographies of these countries on this site to know what's genuine.
Reported seller(s) nickname(s): gabybutti, chesse-35, fernandnavaheredi0




France
---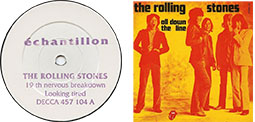 The existence of a few copies of a Decca testpressing with cat.# EP 457104 ['19th Nervous Breakdown'] with a different tracklisting than original is extremely dubious and might just be a scam from a well known French collector.
A fantasy PS with orange beam and white titles was made in 2011 for the jukebox black labels of 'The Last Time' [Decca 72032 - the normal PS is pink with an earlier picture of the band, as earlier jukebox covers], also a pink jukebox sleeve with titles for 'Paint It, Black' [72.076], late scam from 2023.
A fake cover for 'All Down The Line' with the same number than 'Tumbling Dice' [RS 19103] was also offered on Ebay that same year.
Since 2015, a seller on Ebay has been making 'repros' of the rare 'Satisfaction' avenue jukebox cover 72039, or the rarest EP 'Get Off Of My Cloud' live cover 461211 but at least he's selling these as such (read well the ads).
Reported seller(s) nickname(s): ronnie-bird-fan, sancris2

Germany
---
A counterfeit copy of the 'Album Play' was made in the late 90's.
Early rare '5-head' PS have been heavily counterfeited too [with and without discographies on the back] and some used the same paper & print quality so that it is almost impossible to tell which are originals today. Other fakes exist, including new cover artworks, but these are easily recognizable and so far have never been sold as originals.
New bootleggers in Germany revamp well-known rarities, mixing sources and references. EG: in 2008, a 7" single 'Route 66 / Under My Thumb' was issued with a label design copied from the original Decca Italian single 'We Love You' [up to the matrices numbers on labels], cat.# changed from 12654 to 12564.

Greece
---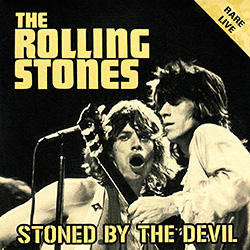 As the Italian DJ does below, a bootlegger based in Greece (or Germany?) regularly press 7" homemade dubplates, supposedly real records limited to '30 copies' on Ebay and Discogs. Sold around $50, worth nothing.
Reported seller(s) nickname(s): panzerfaust_666


Holland
---

In the late 70s, some US pressings were imported and distributed into 'Oldies' titled covers surrounded by stars which never were official. This was a marketing operation from a Dutch distributor.

Israel
---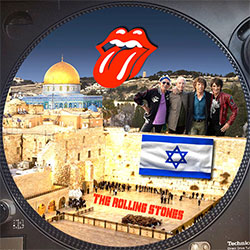 Since 2014, attractive 12" one-sided picture discs [without labels nor info] are produced and sold by Israeli dealers on Ebay at stupid prices, bootlegging 2014 live performances and studio standard hits. Most likely dubplates (produced once ordered).
Reported seller(s) nickname(s): rarerecords [2023],avben_69 [2020], beng-2048 [2019], aadabeenheru_0 [2018], countdown.to.extinction, rarepromorecordsonline [2017]

Italy
---
The possible PS for the 'GDO' promo series on Decca would be fakes.




In 2014, an Italian DJ sells so-called dubplates on picture disc : home produced, and coated the way Polish postcards were in the 60s, these plates are thick plastic (not vinyl) discs stuck together, cheapest sound, and not worth anything collector wise [made on demand, at least 40 different were spread on Ebay].
Reported seller(s) nickname(s):
steelfamilyrecords

Japan
---

No Japanese counterfeit as such are known yet London yellow labels imitating the Japanese ones were used for an English bootleg of 'Around and Around' c/w 'Carol' in 2012.
Japanese pressed bootlegs exist too but do not counterfeit the JPN discography.


Mexico
---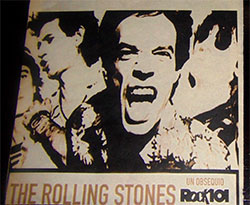 Since 2014, genuine Mexican 7"s from the 60s, 70s and later are sold on Ebay in fantasy sleeves, which are supposed to be promo PS made for/by ACIR radio : 'I Don't Know Why', 'Mixed Emotions' are a few victims of that scam. In 2016, 'Angie' as well (helped by a promo radio sticker on top).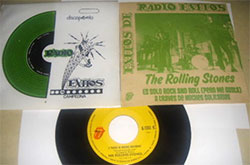 A counterfeit PS of 'Tumbling Dice' sold for a couple of hundreds in Jan. 2016, 'It's Only Rock'n'Roll' is not in rest... even a fake 'promo' PS was made for the Mexican 12" Miss You in 2017. Fantasy covers also have been produced for 7" EPs, all with an 'ACIR Radio' logo printed on, up to a b&w cover for 'Heart of Stone' in mid 2017. Expect some more if not all titles as long as these home made sleeves find some credulous buyers...!
Also mind new promo white labels created from genuine yellow ones : they are pure inventions, stuck over stock copies labels ! [eg: 'It's Only Rock'n'Roll' in 2019].
Always check the Mexican discography in the first place, as virtually every title has been victim of such scams.

Reported seller(s) nickname(s): rarerecords [2023], vallejoil_70 [2022], djcopy74 [2022], vuelaaltorecords, pokajurecords [2021], beng-2048, benh_47 [2019], fernandnavaheredi0, eldorado999, recordsforsellonline, 10000.records.for.sale, very-rare-records [2017], barbacoa2015, joe49_montana [off] ...





Portugal
---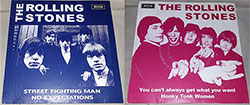 In 2016, some dubious covers surfaced for 'Street Fighting Man' and 'Honky Tonk Women'. Truth is that the first single never had a PS, and that the 2nd originally came out in the local 'bar' PS. Mono tones, early pictures of the band, the absence of printers mention, and a back with misspelling make think of bootlegs, although these covers look old and genuine by their similar texture and print quality. If real, they would be the result of a local promo release (by a radio or Decca), but until some official confirmation, they should be considered as boots.


UK
---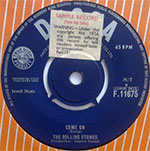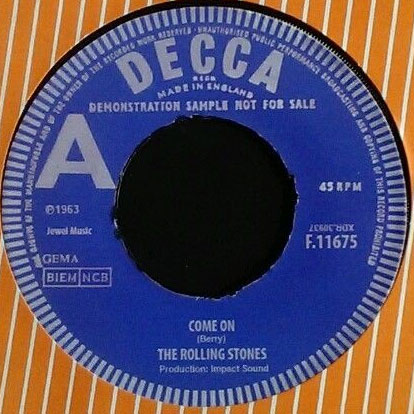 Except for the 'Cocksucker Blues' bootleg pictured at the top of this page imitating UK Decca labels, UK fakes are not legions as they are not very juicy for bootleggers, but a few sellers still have the nasty habit to stick 'demo stickers' on labels of stock copies to make more valuable, and sell them as genuine 'demos'. Such stickers existed, and may be genuine, but never were used for the Stones which had demo pressings with genuine demo labels (different from the stock copies), and if even if the thing occured, a stock copy with such sticker is hardly more valuable than without it.
Reported seller(s) nickname(s): plasticsatisfaction
Note that scams are obvious and frequent on UK acetates [most acetates seen on the market are fakes nowadays].

On the left is a fake of the 'Come On' demo appeared in 2017 on Ebay: newly printed labels (see typography - right click and open the image in a new window) stuck over the labels of a stock copy, with center off to make it truer.

Fake white label test pressings is an artisanal industry known from a UK seller who started 'bleaching' labels (actually standard stock copy's label is dug out and replaced with fake white label - sometimes with additional pen writing to try to make it look more real) long before the internet days. Still very active in 2019!
Reported seller(s) nickname(s): indypendantrecords666

USA
---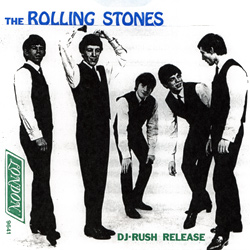 A well known fantasy picture cover for '
Stoned
' was made in the late 70's [and may have been reproduced since]. By the same time, '
Tell Me
', '
The Last Time
', and '
19th Nervous Breakdown
' were counterfeited, easily recognizable with extra large white borders.
More malicious is a counterfeit of '
The Last Time
' with a darker PS than the original.
'
Street Fighting Man
' and '
Beast Of Burden
' - one of the two rarest PS in the world - have inevitably been bootlegged also.
The promo-only single from 1977 '
Before They Make Me Run
' was counterfeited as well [very close to original - the absence of light in KR's pupils = counterfeit].
Since 2012, fantasy new covers [on the right here] were produced by a single dealer which would throw original pressings in [and sell through Ebay at a fantasy price too]. More to come for sure...!
Reported seller(s) nickname(s):
sfcrobertp

Russia / USSR
---


Since 2018, so-called one-of-a-kind Georgian 8" and 9" X-ray flexis supposedly from the 70's and depicting X-ray images (bodies, heads, hands, etc) have been flourishing, from a handful of Russian or Georgian sellers on Ebay. It's of course made on purpose / demand.
Newly privately made covers for the Melodiya EP also exist [see the orange one here]
Reported seller(s) nickname(s):
super_katerina [2023], distro [2022], aleks147824 [2021], vladshevl46 [2020], handmadekaterina [2019], manchester_journalist-8, vinylsuniverse, anastasiaelezarof_0
Many more fakes and counterfeits exist, home made covers being made by collectors or sellers.
Thanks to everybody who provided the valuable information above - all info has been checked twice at least.
If you are aware of existing scams/fakes that you would like to see here, please
contact the webmaster here
.
Further, counterfeits also exist for
sheet music
. More
details here
.
Reported seller(s) nickname(s):
midwestmusicmarketplace.