Brazilian 7" discography
[60 official releases + 20 variations]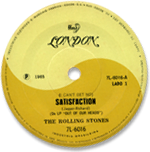 London was distributed by Odeon in Brazil and issued 5 original EPs and a dozen of singles of the Rolling Stones until 1975.

Sixties' EPs picture sleeves are actually made out of two parts, front and back being individually wrapped into a factory plastic protection then stuck together. Back covers were generic of the record company - for this reason, PS are often to be found in nice shape while records hardly are.
London singles, except two, were all distributed within Odeon paper company sleeves.

A picture cover was made for the 'Angie' EP in 1973, else the Brazilian version of the Rolling Stones Records tongue-shaped company sleeve was used for most of the 70's singles.

Then from 1978 to 1983, EMI Brazil issued picture covers for nearly every single.

In the early 80's, the 'Golden Oldies' series - a beautiful run of 20 reissues in picture sleeves - also saw the light of the day, as well as two compilation EPs.

CBS never issued a 7" in this country but 'Harlem Shuffle' and some later titles saw the light of the day on 12".
Warning
: fake never-seen-before covers are numerous due to an active Brazilian bootlegger spreading them through Ebay since 2004 - see special
page on the topic
.