Discovered!
From time to time, a remarkable record pops up out of the blue. For some reason, whether one-of-a-kind or long forgotten, it had remained undocumented until now.
Here is a place to show off the most recent discovery of the kind for the first time [Rolling Stones, official 7" only format].


If you want to let the world know about an unusual nugget you've just found, please send full details here. Leave no stone unturned!

'Tops' from the USA | June 2017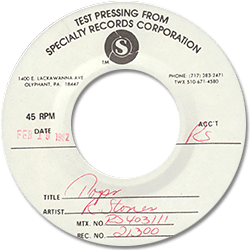 Specialty Records Corp. issued many test pressings in the US for Warner, including a few one-sided numbers, otherwise unreleased on 7" [e.g. 'Dance' in 1980, previously reviewed in this section].
'Tops' certainly ranks among these oddities. Red stamped 'FEB 19, 1982', with a blank back label, it bears the same catalogue number 'RS 21300' as 'Hang Fire', the 3rd and last single extracted from the LP 'Tattoo You'.

Actually not that weird if you consider that another 7" test pressing, with the same number and date, was pressed for 'Neighbours' with 'Tops' on the flip side: it simply shows that such coupling was once tipped for the follower of 'Waiting On A Friend' [a video was also shot for 'Neighbours' by then].

In the end, 'Neighbours' found its way on the B-side of 'Hang Fire' of course [whom a later one-sided test pressing also exists, dated 'FEB 22, 1982'], and 'Tops' was simply dropped, making this one-sided test pressing highly sought-after [the track would not appear on any other official 7" worldwide].

Estimated value :

160 €