Discovered!
From time to time, an undocumented one-of-a-kind or long forgotten record pops up out of the blue.
Here is a place to show off the most recent discovery of the kind for the first time [official 7" only format].




Leave no stone unturned! Let the world know about an unusual nugget you've just found, send full details here.

Promo red vinyl EP of 'Angie' from Brazil

|
June 2022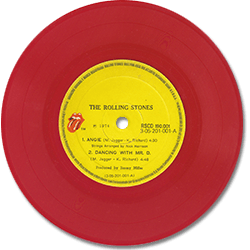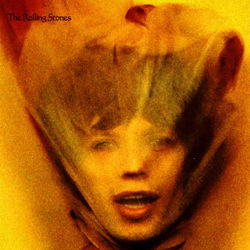 'Angie' was issued several times in Brazil during the 1970's. Firstly, as in most countries, in 1973 as a 2-track single c/w 'Silver Train' [RS-19105] in a tongue-shaped company sleeve, then a year later as a 4-track EP in PS along with 'Dancing With Mr. D.' and 'Doo Doo Doo Doo Doo (Heartbreaker)' [RSCD 190.001] using the 'Goats Head Soup' artwork [a David Bailey picture of Mick Jagger].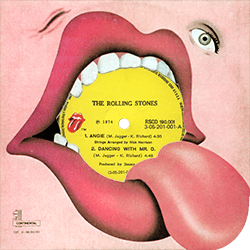 Both releases, single and EP, were reissued with extra catalogue numbers [displayed on labels below the previous catalogue numbers], respectively 3-05 101-001 and 3-05 201-001, in 1974 and 1976 [original year of release would still appear on labels though].
As the EP back cover reveals, distribution changed from Discos Continental to WEA in 1976.
Concerning this later EP, a never-seen before promo version of it was found in... 2022 on red vinyl! Distributed into the promo stickered tongue-shaped sleeve, labels are the exact same as the standard black vinyl issue in PS.
Probably a fancy 'disco' test from the era!


Estimated value :

250 €