Discovered!
From time to time, an undocumented one-of-a-kind or long forgotten record pops up out of the blue.
Here is a place to show off the most recent discovery of the kind for the first time [official 7" only format].




Leave no stone unturned! Let the world know about an unusual nugget you've just found, send full details here.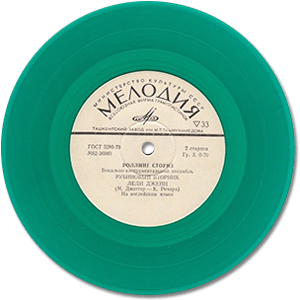 Paint It Black Green in the USSR | October 2018

Those familiar with the former Eastern block's discography know that the only Russian EP released there include 'Paint It, Black', 'As Tears Go By', 'Ruby Tuesday' and 'Lady Jane'; it was originally issued in 1973 and reissued in the late 70's and 1980.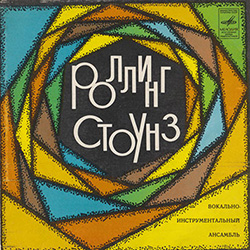 Issued more than 30 times over different locations in Russia, Latvia, Uzbekistan and Georgia [which info can be found above the black horizontal line common to all labels - see USSR discography], the rarest pressings happen to be from Tashkent of Tashmuhamedova, Uzbekistan.

It's also in this plant that coloring wax was experimented for a short while in the early 70's, as this recently unearthed green vinyl edition of this famous EP attests.

Pressings from this plant generally came out in picture cover, yet a generic company sleeve may apply as well.

2021' addition: a dark green and a blue vinyl edition have also been found from the same plant with slight different white labels.

Estimated value :

150 €