Discovered!
From time to time, an undocumented one-of-a-kind or long forgotten record pops up out of the blue.
Here is a place to show off the most recent discovery of the kind for the first time [official 7" only format].




Leave no stone unturned! Let the world know about an unusual nugget you've just found, send full details here.

2nd issue of 'Got Live If You Want It!' [SDE 7502] | November 2018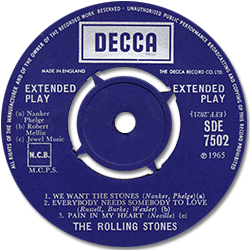 Like most Decca 7"s from the UK, the 3 Scandinavian EPs pressed in England, also known as the 'export' Decca EPs [see export UK discography] - respectively 'The Rolling Stones N°2' [SDE 7501], 'Got Live If You Want It!' [SDE 7502] and 'She Said Yeah' [SDE 7503] - were issued a few times, but only the first one so far was seen housing boxed Decca labels.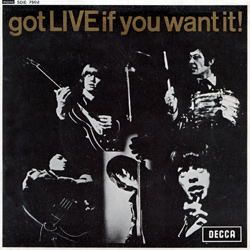 If such labels variation for the 'N°2' EP [SDE 7501] was already pretty much rarer than the original 'curved Decca' pattern, the post-1965 labels design for 'Got Live If You Want It!' [SDE 7502] had simply been unseen until now.

The record comes in the original laminated front cover with flipbacks and of course bears the usual 'export' tracklisting [missing 'Route 66].
This edition can reasonably be dated from 1970.

Estimated value :

80 €