Discovered!
From time to time, an undocumented one-of-a-kind or long forgotten record pops up out of the blue.
Here is a place to show off the most recent discovery of the kind for the first time [official 7" only format].




Leave no stone unturned! Let the world know about an unusual nugget you've just found, send full details here.

Carol - red cover [72025] | March 2019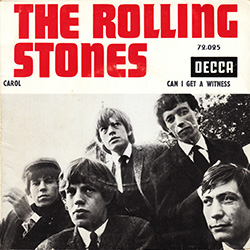 The earliest French jukebox 7"s issued in 1964 are known as a nightmare to come by in decent shape for most collectors, especially in their pink titled sleeves.
Decca France produced a generic untitled paper picture sleeve with the band name in pink that would be also used for these singles up to 'The Last Time' [72032].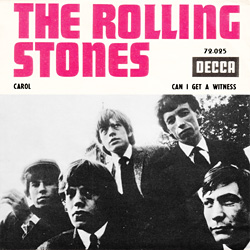 Few know that a rarer variation of this cover was also made on glossy paper with band name in red, probably by the time the second single was out.

It is only now than a version of such red cover was found with printed titles, for 'Carol' [72025]. Differences between the pink and red sleeves also lie on the back where the red sleeve is missing dating.
The quality of titles printing, in grey, is not as good as the 'black print on paper' version though, which may explain why Decca most likely abandonned the idea, sticking to the pink paper sleeves afterwards.
Disc is the same as the one known in the pink sleeve, on black labels [matrix numbers variations exist - see the French jukebox 7"s section for more details].

Estimated value :

300 €