Discovered!
From time to time, an undocumented one-of-a-kind or long forgotten record pops up out of the blue.
Here is a place to show off the most recent discovery of the kind for the first time [official 7" only format].




Leave no stone unturned! Let the world know about an unusual nugget you've just found, send full details here.

'Happy' from Thailand | February 2018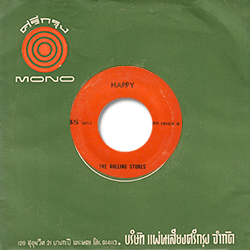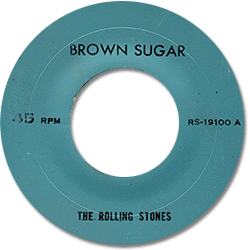 Thailand is one of these eastern countries [like Malaysia, Indonesia, or Iran] whom discographies can be looked as bootlegs, for record companies would often hide manufacturing and contact details, not to talk about copyrights. At worse, they even forgot to mention their name, which is the case here.

Most known 7" records from Thailand are EPs; myriads of various artists compilation EPs exist including a Rolling Stones track, but around 20 '100% Stones' EPs only were produced between 1965 and 1972, most in exclusive PS.

The only existing documented singles so far were 'Jumpin' Jack Flash' and 'Honky Tonk Women', without covers, bearing US catalogue numbers and couplings.
Now should be added 'Brown Sugar' and 'Happy' from the RSR catalogue, both released in this country in the same manner [US couplings and numbers, without labels mention], in local Sri Krung Phonograph Record Company sleeves. Surprisingly,'Happy' already featured on 3 different Thailandese EPs before!
As a consequence, the existence of Thailandese singles of 'Tumbling Dice' and/or 'Wild Horses' is now likely.

Estimated value :

40 €