different Rolling Stones vinyl 7"s* have been issued worldwide [which includes 633 UK

and 606 US

releases], as of Tuesday 23 August 2016.

* 1742 releases + 2710 variations.
You can't judge a cover by looking at its number!
Members
[log in for full access]

Discovered!
---
'Miss You' unearthed from Barbados!
Collectors ressources
---

The Rolling Stones collectors cave is a great forum from down under dedicated to collecting the band's vinyl and memorabilia, first in its genre!
---

What the fake!? Don't be fooled by counterfeits / fakes and fantasy repros. This page will help you identifying what's real and what's not.
Welcome to the Rolling Stones worldwide 7"s discography !

Stones7.com is strictly dedicated to the band's 7" singles and EPs worldwide from 1963 to nowadays. Daily updated, it has been the most serious and complete reference in its field since 2000 [also the best price guide].
Visitors can discover and browse freely parts of this site, including one country's discography every new week [currently 'Yugoslavia (ex)'] and the single of the day [currently 'Streets Of Love' - picked according to its release date].
For a little annual fee, members only have full access to all countries discographies, song by song browsing, price guide, and in-depth datas. [+]
Note : because of the nature, longevity and passionate involvement of this site, no fancy book or publication can reasonably approach its content or accuracy [more than 12,000 pictures documenting 4452 records]. More about this site here.
This week's pick is
Yugoslavia (ex)
, which counts
18
releases +
17
variations.


The 7"s quiz
---
A very single-minded test on the Rolling Stones worldwide singles' discography.

'Streets Of Love' was released as a 7" single in the UK on August 22, 2005, where it peaked at #15.
Written by Mick Jagger and Keith Richards, 'Streets Of Love' was released as a double A-side single with 'Rough Justice' from the band's' 2005 album 'A Bigger Bang'. It is a gaudy power ballad with a spare, guitar-based arrangement and falsetto chorus, received the main marketing push, though it failed to become a major hit in the US. By contrast, it went to#1 in Spain, Top 10 in Argentina, the Netherlands, Denmark, Sweden, Belgium, Finland, Canada and Top 20 in Norway, Germany, the UK, Greece and Italy.

The single was released on August 22, 2005 in the UK and was promoted through a video directed by Laurel Harris, shot at Zaphod Beeblebrox's nightclub in Ottawa, Canada, and featuring Canadian actor Tan Arcade.
'Streets Of Love' was first played live on July 11, 2006 in San Siro, Italy. [+]


Latest official 7" single
---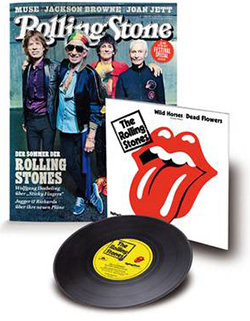 To celebrate the re-issue of the album 'Sticky Fingers', ROLLING STONE Germany in cooperation with the Rolling Stones exclusively released a previously unreleased acoustic version of 'Wild Horses' as a 7" single, coupled with 'Dead Flowers' [June 2015].