7"s worldwide discography

|

what the fake!?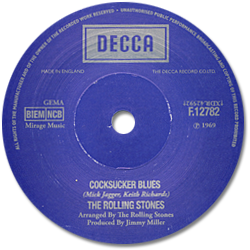 The infamous 'Cocksucker Blues' rejected by Decca in 1969 was heavily bootlegged, up to these 2007' fake Decca labels bearing the original catalogue number for 'Jumpin' Jack Flash'!

Since its creation in 2000, Stones7.com has been striving to help the collector in distinguishing the real from the fake. Because if some bootlegs may have artistic or collectable interests, fakes or imitations just don't.

Alas the internet years also have been seeing the emergence of an important number of counterfeits and other fantasy pressings - often sold almost anonymously through a big auction site, until CD fakes, usually made 'on request'.
The ability for every computer owner to burn silver CDRs at home while major labels would parallely less and less care for the packaging of their promotional items litterally drowned such promo CDS market in a few years, raising doubts on the genuity of almost every promo CDs made after 2002, and therefore spreading a serious lack of interest in such items in the end.














The list is long on South American fakes! More exist.
Vinyl did not suffer that bad, for its manufacturing process requires professional equipment, but bootlegs from Germany - pressed in the East for the most - also flourished, with a greedy trend to copy or revamp - next to perfect - original ultra rare stuff. This mainly concerns LPs [only a few dealers would clearly state these are copies], but singles are also targetted as recent colored vinyl editions of 'Plundered My Soul' [so-called promo issues] or 'Cocksucker Blues' respectively on perfectly imitated Universal and Decca labels [see bootlegs section] showed.
Further, quality home desk printers gave ideas to some to create 'new' covers [again, Germany is #1 in such practice].
Here are, country by country, some information of fakes on the 7" format.

Bolivia
,

Brazil
,

Chile
,
Paraguay
---
A dealer mainly [and some others buying from him] has been selling many fake picture sleeves since 2003 on a big auction site, supposed to be London originals from these countries [for Rolling Stones but also The Beatles and later artists like Queen or Madonna]. Work is well-made: PS consist of a fake cover, wrapped into plastic - sometimes with used plastic to make it more realistic like original Brazilian EPs were, and these never-seen-before covers supposedly from Bolivia, Chile, Paraguay or Brazil, host original Brazilian singles or EPs.
The truth is that no 60's single from 1966 onwards had a PS in Brazil, and that no cover variations exist for the Brazilian original EPs. Paraguay had no releases as such, Bolivia only had one EP in 1969, and Chilean 60's titles all came out in company sleeves. Refer to the discographies of these countries on this site to know what's genuine.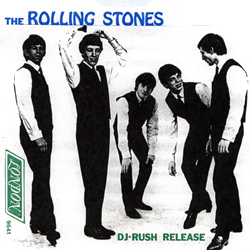 USA
---
A fantasy picture cover for 'Stoned' was made in the late 70's [and may have been reproduced since]. By the same time, 'Tell Me', 'The Last Time', and '19th Nervous Breakdown' were counterfeited, easily recognizable with extra large white borders. More malicious is a counterfeit of 'The Last Time' with a darker PS than the original. 'Street Fighting Man' and 'Beast Of Burden' - one of the two rarest PS in the world - have inevitably been bootlegged also. The promo-only single from 1977 'Before They Make Me Run' was counterfeited as well [very close to original].
Recently [2012] the following surfaced, all home made and sold through Ebay by the same seller. More to come for sure...!


Germany
---
A counterfeit copy of the 'Album Play' was made in the late 90's.
Early rare '5-head' PS have been heavily counterfeited too [with and without discographies on the back] and some used the same paper & print quality so that it is almost impossible to tell which are originals today. Other fakes exist, including new cover artworks, but these are easily recognizable and so far have never been sold as originals.
New bootleggers in Germany revamp well-known rarities, mixing sources and references. EG: in 2008, a 7" single 'Route 66 / Under My Thumb' was issued with a label design copied from the original Decca Italian single 'We Love You' [up to the matrices numbers on labels], cat.# changed from 12654 to 12564.


Holland
---
In the late 70s, some US pressings were imported and distributed into 'Oldies' titled covers surrounded by stars which never were official. This was a marketing operation from a Dutch distributor.

Italy
---
The possible PS for the 'GDO' promo series on Decca would be fakes.


France
---
The existence of a few copies of a Decca testpressing with cat.# EP 457104 ['19th Nervous Breakdown'] with a different tracklisting than original is extremely dubious.
A fantasy PS with orange beam and white titles was made in 2011 for the jukebox black labels of 'The Last Time' [Decca 72032 - the normal PS is pink with an earlier picture of the band, as earlier jukebox covers].
A 'Tumbling Dice' [RS 19103] fake cover was also offered on Ebay that same year.

---
More fakes and counterfeits exist. Plenty of
UK
,
German
, or
Turkish
home made covers were made by collectors or sellers for instance.
If you are aware of existing fakes that you would like to see here, please feel free to
contact the webmaster here
.