Discovered!
From time to time, an undocumented one-of-a-kind or long forgotten record pops up out of the blue.
Here is a place to show off the most recent discovery of the kind for the first time [official 7" only format].




Leave no stone unturned! Let the world know about an unusual nugget you've just found, send full details here.

'Everybody Needs Somebody To Love' but at which speed?| June 2016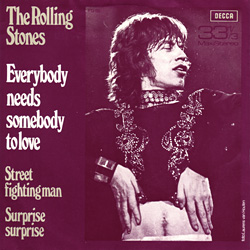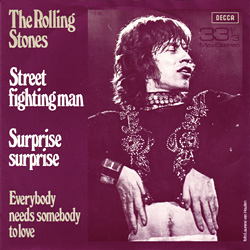 Fearing social crisis, England was reluctant to release 'Street Fighting Man' as a single in May 1968 - and only pressed some copies for distribution in Scandinavia [Decca F 22925] back then, but the track eventually found its way three years later on a 3-track 7" EP turning at 33 1/3 rpm [Decca F 13195], along with the then unreleased track 'Surprise Surprise' on A-side, and 'Everybody Needs Somebody To Love' on flip. Some jukebox and single releases were also produced in small quantities at the time [see 70s and UK export sections for details].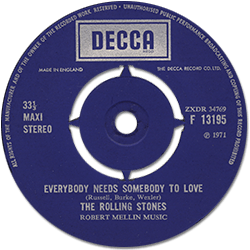 The EP was pressed in the UK for inland distribution in a Decca neutral company sleeve, while exported to Holland to be sold in a Dutch-only 'live' cover.
What is little known though, is that a few copies of these Dutch/UK combination - with label shown here - have their B-side turning at 45rpm instead of 33 1/3!

It is likely that someone at Decca lately realized that it would be a good idea to have the B-side turning at 45 [to sound better] since there was space enough on the record to do so, but its release was somewhat messy. Proof could be the existence of an obscure labels variation of this EP with a '45rpm' note on B-side, found in the UK in CS, but which yet turns at 33 1/3 rpm!
From the herein pictured label, the only way you can actually tell which speed it turns at, is to look at the engraved matrix in the groove: plates with a matrix number starting by '45-' will turn at 45 rpm indeed.

Estimated value :

85 €