Discovered!
From time to time, an undocumented one-of-a-kind or long forgotten record pops up out of the blue.
Here is a place to show off the most recent discovery of the kind for the first time [official 7" only format].




Leave no stone unturned! Let the world know about an unusual nugget you've just found, send full details here.

'She's So Cold' from Guatemala | July 2013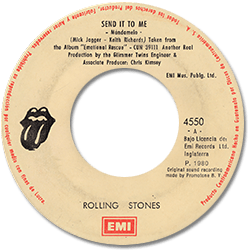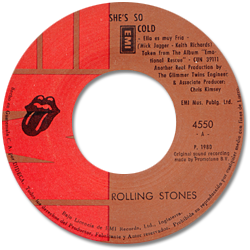 As incredible as it seems, the second single extracted from the 1980's album 'Emotional Rescue', 'She's So Cold', was released five times in Guatemala, which country's 7"s discography would only offer four titles issued between 1978 and 1981.
The first pressing was issued on brown & red labels [right], followed by the cream labels which offer variations, recognizable to the band's name and titles' typographies (notably sans serif versus serif).
Lately surfaced a variation of the 'cream' labels, bearing the band name in sans serif, but with wrong titles for A & B-sides. Indeed, the 'Send It To Me' side is supposedly the 'A' side as label suggests, but in fact plays the correct track 'She's So Cold' [and vice versa].

A real oddity for the die-hard collector!

Estimated value :

30 €

Many thanks to 'Honestman' for this addition.