Discovered!
From time to time, an undocumented one-of-a-kind or long forgotten record pops up out of the blue.
Here is a place to show off the most recent discovery of the kind for the first time [official 7" only format].




Leave no stone unturned! Let the world know about an unusual nugget you've just found, send full details here.

'Brown Sugar' white labels from Mexico | August 2012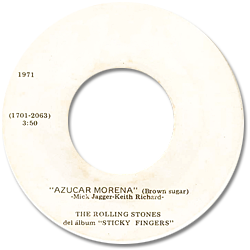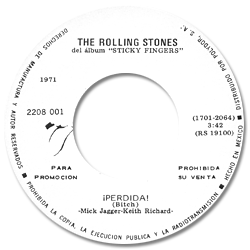 'Brown Sugar', the opening track from 'Sticky Fingers', was originally issued twice in Mexico in 1971. As a single on Polydor [2208001], coupled with 'Bitch', and as a 3-track EP on Gamma Records, coupled with 'Wild Horses' and 'Can't You Hear Me Knocking' [GX 07761 - which later track would also be the next Polydor single in this country].
Both records were distributed into similar fold-out picture sleeves revamping the Andy Warhol's 'jeans' artwork and offer slight variations.

Until now, only a promo white labels version of the Polydor single was documented [B-side on the right-hand side].
A second - or should I say, prior - version [on the left] was recently unearthed bearing the same matrices numbers, but with different 'unfinished' labels bearing basic info and notably missing the famous tongue logo. No wonder that such version - distributed without cover - appeared first.


Estimated value :

50 €

Many thanks to Thomas Hess for this nice addition.