The Lantern

|

solo singles worldwide discographies

|

Ron Wood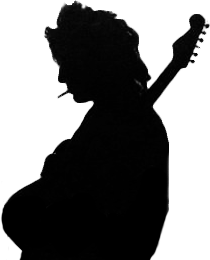 Ron Wood 7"s, 12"s, CDS solo discography - exclusive artworks
co.
view
catalogue #
titles - CD-only artwork - *non-album track
rel. date
WB 16463
I Can Feel The Fire / Breathe On Me
11/1974
WB 16463
I Can Feel The Fire / Breathe On Me
11/1974
P-1341W
I Can Feel The Fire / Shirley
11/1974
N-S-63-92
If You Don't Want My Love / I Got A Feeling
10/1975
WB 16679
Big Bayou / Sweet Baby Mine
01/1976
CBS 7425
Seven Days / Lost And Lonely
08/1979
CBS 06 SP 326
Seven Days / Lost And Lonely
08/1979
CBS 7785
Seven Days / Come To Realise
08/1979
CBS 7785
Seven Days / Breakin' My Heart
08/1979
CBS A-1867
Priceless / 1 2 3 4
1981
PB 12004
I Can Feel The Fire + 2 [12"]
1987
Continuum CDCTUM102
Stay With Me + 2
1992
Continuum 12210-7
Show Me / Breathe On Me
1992
Continuum 12210-2
Show Me / Breathe On Me
1992
Continuum 12211-2
Like It (w/ Hothouse Flowers)
1992
Continuum 12309-2
Stay With Me [edit + LP version]
1993
Continuum 13210-2
Josephine [2 mixes]
1992
Continuum 14210-2
Somebody Else Might / Ain't Rock & Roll
1993
Continuum 15210-2
Always Wanted More [2 mixes]
1993
Genesis GENWOODCD1
Wood On Canvas: Every Picture Tells A Story
03/1998
Bravado RNWO2BS
Lucky Man
2010
Eagle Records
Lucky Man
2010
A selection of worldwide singles by Ron Wood [artworks significantly unique]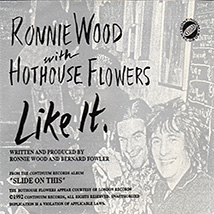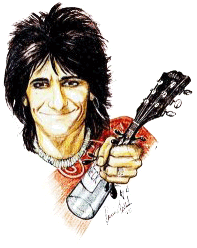 Ron Wood began his career in 1964, as guitarist for The Birds. He then joined the mod group The Creation for a short time, appearing on a small number of singles [both bands 7"s are highly collectable].

In 1968, The Jeff Beck Group followed, with which two albums were released, 'Truth' and ' Beck-Ola', meeting moderate successes.

The group split in 1970, and Wood departed along with lead vocalist Rod Stewart to join former Small Faces members Ronnie Lane, Ian McLagan, and Kenney Jones in a new group, dubbed The Faces.
The Faces were very successful in the UK and Europe, releasing 4 albums - and many singles - from 1970 to 1973.

In 1974, Ron Wood eventually recorded his first solo LP, 'I've Got My Own Album To Do'. The album featured former bandmate McLagan as well as Keith Richards, and Mick Taylor, longtime friends of Wood's. Mick Jagger is also part of the backing vocals on its first single 'I Can Feel The Fire'.

Following Mick Taylor's departure from the Rolling Stones in December 1974, Wood participated in the band's March 1975 recording sessions for their forthcoming album 'Black And Blue' and toured North America with the band in 1975; the Faces announced their break-up in December of that year, and Wood was officially declared a member of the Rolling Stones in February 1976.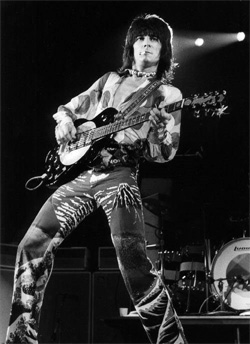 Yet Ron Wood has never stopped recording solo.

'Now Look' in 1975 peaked at #118 on Billboard.
He then collaborated with Ronnie Lane for the soundtrack to the film 'Mahoney's Last Stand' a year later.
'Gimme Some Neck' in 1979 hit #45 in the US and was promoted through a tour with The New Barbarians [20 concerts in Canada and the US and the Knebworth Festival in the UK].
His album '1234' was released in 1981, peaking at #164.

In the 80's, besides its involvement in the Stones, Ron Wood collaborated with many artists, including Prince, Bob Dylan, David Bowie, Eric Clapton, Aretha Franklin,Ringo Starr, Bo Diddley [the latter of which he released the album 'Live at the Ritz' with, in 1988] or The Dirty Strangers [also w/ a Keith Richards collaboration].

'Slide On This' in 1992 was followed by a live album.
Following the 2001 release of his album 'Not For Beginners', Wood toured England and Ireland for a couple of years with his own group, The Ronnie Wood Band.
His latest album 'I Feel Like Playing' was issued in the UK in 2010 on his own label and reached #164 in the UK charts. A confidential single of 'Lucky Man' [promo and an expensive marketed box set 7"] was issued by then.

For more information on
Ron Wood
, please visit
RonnieWood.com