The Lantern

|

solo singles worldwide discographies

|

Keith Richards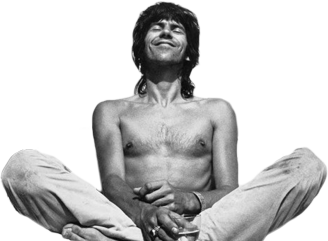 Keith Richards 7"s, 12"s, CDS solo discography - exclusive artworks
co.
view
catalogue #
titles - CD-only artwork - *non-album track
rel. date
RSR RSR 102
Run Rudolph Run* / The Harder They Come*
02/1979
EMI 1A 006 62333
Run Rudolph Run* / The Harder They Come*
02/1979
EMI 1C 006 62333
Run Rudolph Run* / The Harder They Come*
02/1979
EMI 1C 006 62333
Run Rudolph Run* / The Harder They Come*
02/1979
EMI 2C 008 62333
Run Rudolph Run* / The Harder They Come*
02/1979
EMI 3C 008 62333
Run Rudolph Run* / The Harder They Come*
02/1979
EMI 4C 006 62333
Run Rudolph Run* / The Harder They Come*
02/1979
EMI ESR-20560
The Harder They Come* / Run Rudolph Run*
02/1979
Virgin KEITH 1
Make No Mistake [PO one-sided, part of box set]
10/1988
Virgin KEITH 2
Locked Away [PO one-sided, part of 7"PS box set]
10/1988
Virgin KEITH 3
Struggle [PO one-sided, part of 7"PS box set]
10/1988
Virgin KEITH 4
Big Enough [PO one-sided, part of 7"PS box set]
10/1988
Virgin 2-91047
Talk Is Cheap [3x 3"CDS box set]
10/1988
Virgin VS 1125
Take It So Hard / I Could Have Stood You Up
10/1988
Virgin PR 2395
Take It So Hard [promo-only 12"]
10/1988
Virgin PR 2558
You Don't Move Me [promo-only 12"]
10/1988
Virgin 7-99240
Make No Mistake / It Means A Lot
02/1989
Virgin VUSCD 69
Wicked As It Seems / Words Of Wonder
10/1992
Virgin DPRO-12745
Eileen [edit + LP v.]
12/1992
Virgin DPRO-12770
999 [edit + LP v.]
12/1992
Virgin 665 622
Hate It When You Leave / Take It So Hard (live)
01/1993
Virgin V25H-12647
Eileen + 4
04/1993
Mindless / Virgin
Trouble [radio edit + album v. + instr.]
07/2015
Mindless / Virgin
Love Overdue [album v.]
10/2015
BMG 538592531
Hate It When You Leave / Key To The Highway
10/2020
BMG 5538659071
Wicked As It Seems / Gimme Shelter (live 7")
06/2021
A selection of worldwide singles [7" and 12" and CDS] by Keith Richards whom artworks are significantly unique and therefore collectable.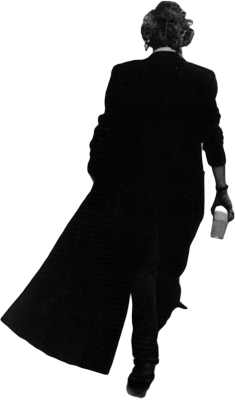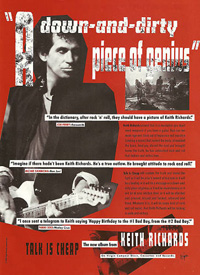 In 1978, Keith Richards released his first solo single: renditions of Chuck Berry's 'Run Rudolph Run' and Jimmy Cliff's 'The Harder They Come'.
In 1987, after Jagger had put the Rolling Stones on hold in order to promote his solo albums, Richards formed a backing band boasting several high profile sidemen dubbed the 'X-pensive Winos', enlisting the songwriting talents of drummer/record producer Steve Jordan [who had played on some tracks on 'Dirty Work' and in the band Richards assembled for the documentary 'Hail! Hail! Rock 'n' Roll'].

Besides Steve Jordan, the X-pensive Winos included Sarah Dash, Waddy Wachtel, Bobby Keys, Ivan Neville and Charley Drayton. Their first album, 'Talk Is Cheap', went gold and has remained a consistent seller. It spawned a brief US tour - one of only two that Richards has done as a solo artist - documented on the Virgin release 'Live at the Hollywood Palladium, December 15, 1988'.
In 1992 'Main Offender' was released, and following a warm-up concert in Buenos Aires, the X-Pensive Winos [including a new member, backing vocalist Babi Floyd] toured Europe and North America.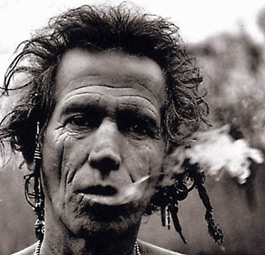 Next to his solo career, Keith Richards had worked outside The Rolling Stones with Ronnie Wood on several occasions during the 1970s, contributing guitar, piano and vocals to Wood's first two solo albums and joining him on stage for two July 1974 concerts. In 1976-77 Richards played on and co-produced John Phillips' solo recording 'Pay, Pack & Follow' [released in 2001].
In 1979 he toured the US with The New Barbarians, the band that Wood put together to promote his album 'Gimme Some Neck'; he and Wood also contributed guitar and backing vocals to 'Truly' on Ian McLagan's 1979 album 'Troublemaker'.

Since the 1980s Richards has made more frequent guest appearances. In 1981 he played on reggae singer Max Romeo's album 'Holding Out My Love to You'. He has worked with Tom Waits on two occasions, adding guitar and backing vocals to Waits's 1985 album 'Rain Dogs', and co-writing, playing and sharing the lead vocal on 'That Feel' on 'Bone Machine' [1992]. In 1986 Richards produced and played on Aretha Franklin's rendition of 'Jumpin' Jack Flash' and served as musical producer and band leader - or as he phrased it "S&M director" - for the Chuck Berry film 'Hail! Hail! Rock 'n' Roll'.

In the 1990s and 2000s Richards has continued to contribute to a wide range of musical projects as a guest artist. A few of the notable sessions he has done include guitar and vocals on Johnnie Johnson's 1991 release 'Johnnie B. Bad', which he also co-produced; and lead vocals and guitar on 'Oh Lord, Don't Let Them Drop That Atomic Bomb On Me' on the 1992 Charles Mingus tribute album 'Weird Nightmare'. He duetted with country legend George Jones on 'Say It's Not You' on the 'Bradley Barn Sessions' [1994]; a second duet from the same sessions - 'Burn Your Playhouse Down' - appeared on Jones' 2008 release 'Burn Your Playhouse Down – The Unreleased Duets'. He partnered with Levon Helm on 'Deuce and a Quarter' for Scotty Moore's album 'All the King's Men' [1997]. His guitar and lead vocals are featured on the Hank Williams tribute album 'Timeless' [2001] and on veteran blues guitarist Hubert Sumlin's album 'About Them Shoes' [2005]. Richards also added guitar and vocals to Toots & the Maytals' recording of 'Careless Ethiopians' for their 2004 album 'True Love' and to their re-recording of 'Pressure Drop', which came out in 2007 as the b-side to Richards's iTunes re-release of 'Run Rudolph Run' [bootleggged on 10" and a so called South African promo CDS].
'Trouble' and 'Love Overdue' were the last official (promo-only) singles from Keith's third studio album 'Crosseyed Heart, issued' in the fall of 2015.
For the Record Store Day of October 2020, 'Hate It When You Leave' was released on a red vinyl as a 7" limited edition of 4,000 copies, featuring 'Key To The Highway' on its flip side [until then only available on the Japanese version of the album 'Main Offender'].
A year later, for the same event, another red vinyl 7" in PS was issued including 'Wicked As It Seems' and 'Gimme Shelter' live from 1992 at the Town & Country Club, Kentish Town, London, England.


Keith Richards collaborations - singles
co.
view
catalogue #
artist : title
year
Manhattan 113
Artists Against Apartheid: Silver & Gold
1985
Manhattan PROM 37
Artists Against Apartheid: Silver & Gold
1985
ARISTA 678 P
w/ Aretha Franklin: Jumpin' Jack Flash
1986
RZS 113
w/ The Dirty Strangers: Thrill Of...
1988
THRILL 8803
w/ The Dirty Strangers: Thrill Of...
1988
THRILL 3
w/ The Dirty Strangers: Bathing Belles
1989
For more information on
Keith Richards
, please visit
Keith Richards.com