Discovered!
From time to time, an undocumented one-of-a-kind or long forgotten record pops up out of the blue.
Here is a place to show off the most recent discovery of the kind for the first time [official 7" only format].




Leave no stone unturned! Let the world know about an unusual nugget you've just found, send full details here.

'Mother's Little Helper' from India | January 2012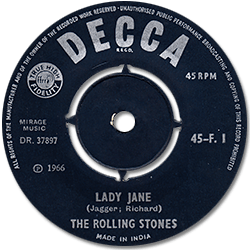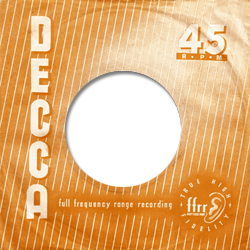 Recently found is an original Decca 1966 Indian release of the single 'Mother's Little Helper', coupled with 'Lady Jane', bearing the extraordinary catalogue number '45-F.1'.

India released export versions of the singles 'Satisfaction' (c/w 'The Under Assistant West Coast Promotion Man') [45-F.12220], 'Get Off Of My Cloud' [45-F.22265], 'She's A Rainbow' [45-F.22706] and 'Street Fighting Man' [F.22825]. Despite an existing Decca export number [eg. F 22405 in Italy] for 'Mother's Little Helper', this late rarity was allocated the ultimate catalogue number in this country, leading to think that it was the first Indian Decca release [!].

This known copy with push-out center labels was found without company sleeve but was most likely distributed into a local Decca or neutral company sleeve.

Estimated value :

75 €

Many thanks to Johan van Breeden for this nice addition.