Collectors news
|
June 2015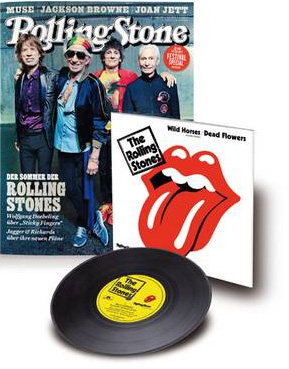 To celebrate the re-issue of the album 'Sticky Fingers', ROLLING STONE Germany in cooperation with the Rolling Stones exclusively releases a previously unreleased acoustic version of 'Wild Horses' as a 7" single, coupled with 'Dead Flowers'.
This 7" single in art sleeve is exclusively available with the ROLLING STONE issue no. 06/2015 distributed in Germany and Austria, yet it was pressed in Austria therefore enters the Austrian discography.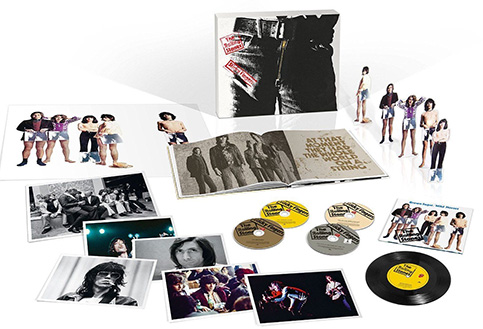 Released on June 8, 2015, the 'Sticky Fingers' reissues on deluxe and super deluxe formats feature a selection of previously unavailable material, including an alternative version of 'Brown Sugar' featuring Eric Clapton; unreleased interpretations of 'Bitch', 'Can't You Hear Me Knocking' and 'Dead Flowers'; an acoustic take on the anthemic 'Wild Horses', and five tracks recorded live at The Roundhouse in 1971.

Remastered album and bonus CD featuring previously unreleased alternate takes and live performances.
Plus 'Get Yer Leeds Lungs Out' CD, a DVD featuring 2 tracks from 'Live At The Marquee' and a 7" vinyl with 'Brown Sugar' and 'Wild Horses'. All housed in a presentation box with hardback book with a zip + print, poster, 4 postcard set and mini replica of band cut out.
The 120 page book recounts the making of this classic Stones album with an extensive essay by Nick Kent, with previously unpublished images of the band and lavishly illustrated with metallic gold ink throughout.
Now guess why the 7" is not coming with the double LP edition...
1. Brown Sugar
2. Sway
3. Wild Horses
4. Can't You Hear Me Knocking
5. You Gotta Move
6. Bitch
7. I Got The Blues
8. Sister Morphine
9. Dead Flowers
10. Moonlight Mile
1. Brown Sugar (Alternate Version with Eric Clapton)
2. Wild Horses (Acoustic Version)
3. Can't You Hear Me Knocking (Alternate Version)
4. Bitch (Extended Version)
5. Dead Flowers (Alternate Version)
6. Live With Me *
7. Stray Cat Blues*
8. Love In Vain*
9. Midnight Rambler*
10. Honky Tonk Women*

* Live at The Roundhouse, 1971
1. Jumpin' Jack Flash
2. Live With Me
3. Dead Flowers
4. Stray Cat Blues
5. Love In Vain
6. Midnight Rambler
7. Bitch
8. Honky Tonk Women
9. (I Can't Get No) Satisfaction
10. Little Queenie
11. Brown Sugar
12. Street Fighting Man
13. Let It Rock
1. Midnight Rambler
2. Bitch

Both tracks live at The Marquee, 1971
1. Brown Sugar
2. Wild Horses

Everything about the Secret 7" 'Dead Flowers' from May 2015 here.