Japanese 7" discography / London EPs - SAC series [1976]

From 1976, the Super Compact 800 series [SAC] - or the 'Rolling Stones Best Hits' - consist in two volumes only and were the latest EPs by the band issued in Japan.
Both are beautiful luxuous covers with exclusive live shots, housing records with similar black and silver labels than the OH or LS series - turning at 33 1/3 rpm, as well as a lyric sheet.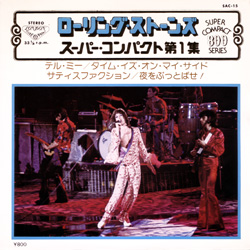 The first EP [SAC 15] opens again - as many Japanese compilations - with 'Tell Me', coupled with 'Time Is On My Side', 'Satisfaction' and 'Let's Spend The Night Together'. The live picture is probably not casual, Mick Jagger seeming to pose like a graceful geisha.

Rarer, 'Jumpin' Jack Flash' [SAC 16], 'Honky Tonk Women', 'She's A Rainbow' and 'Let It Bleed' made this second tracklisting.
Two versions of these unique live covers exist, either in mat or gold embossed lettering [the latter of which are more common].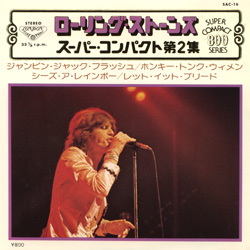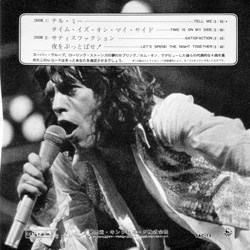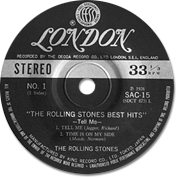 London SAC series
information
#
view
cat.#
date
main title
PS
32-a
SAC 15
11/1976
Tell Me
gold embossed lettering PS
32-b
SAC 15
11/1976
Tell Me
mat lettering PS
33-a
SAC 16
11/1976
Jumpin' Jack Flash
gold embossed lettering PS*
33-b
SAC 16
11/1976
Jumpin' Jack Flash
mat lettering PS*
* all copies misspell 'Honkey Tonk Women' & 'Let It Breed' on back cover and labels