Japanese 7" discography / London - S07P series [1983]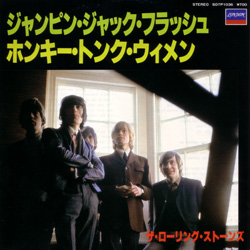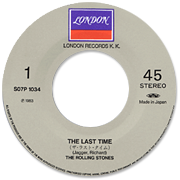 London S07P series
tracklisting
#
view
cat.#
year
titles a-side / b-side
101-a
S07P 1032*
05/83
Tell Me / Time Is On My Side
101-b
S07P 1032
05/83
Tell Me / Time Is On My Side
102-a
S07P 1033*
05/83
Satisfaction / Under My Thumb
102-b
S07P 1033
05/83
Satisfaction / Under My Thumb
103
S07P 1034*
05/83
The Last Time / Get Off Of My Cloud
104-a
S07P 1035*
05/83
Paint It Black / Let's Spend The Night Together
104-b
S07P 1035
05/83
Paint It Black / Let's Spend The Night Together
105-a
S07P 1036*
05/83
Jumpin' Jack Flash / Honky Tonk Women
105-b
S07P 1036
05/83
Jumpin' Jack Flash / Honky Tonk Women
* labels w/ a 'LONDON RECORDS K.K.' note below the London logo

In 1983, the band had achieved its worldwide tour and the 'Let's Spend The Night Together' movie by Hal Ashby was on screens.
As if the previously issued box set of 15 singles 'Single Stones' was not enough to promote the London back catalogue, five more singles in exclusive insert picture sleeves were issued.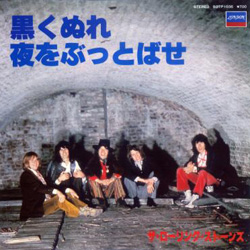 Each of these insert 'sleeves' had lyrics on the back, and records came out on new grey labels housed into a London / Barclay blue & white inner company sleeve.

'Tell Me' / 'Time Is On My Side' [S07P 1032] had already been issued in 1968 as TOP 1242, and 'Jumpin' Jack Flash' previously was the flip side of 'Honky Tonk Women' within the CM series [CM 512], else these couplings are unique.

No promo issues were made for these series, however labels variations exist, bearing an extra 'LONDON RECORDS K.K.' note below the red and blue London logo, on top [those are supposedly the first issues].

'Paint It, Black' [S07P 1035] uses a unique picture from 1968 depicting the band in a cellar and is the most sought-after number from this set.