Don Covay [Home]
/ news
June 2015' news
Rockin' And Doowoppin' (The Early Years) [tracklisting here], the ultimate compilation of Don Covay's earliest recordings from 1955 to 1962 [with the Rainbows, on his own, as Pretty Boy, or as Don Covay and The Goodtimers] was released this month by Jasmine Records in the UK and is available to order here.
The nicely designed 29-track disc includes notably 'Bip Bop Bip', his first single on Atlantic and 4 rare singles only available on 7" before (1958-1960 on Big-Top, Epic), making the 'Ohh My Soul' bootleg CD useless.
Liner notes below are fully reproduced with kind permission from Jasmine Records.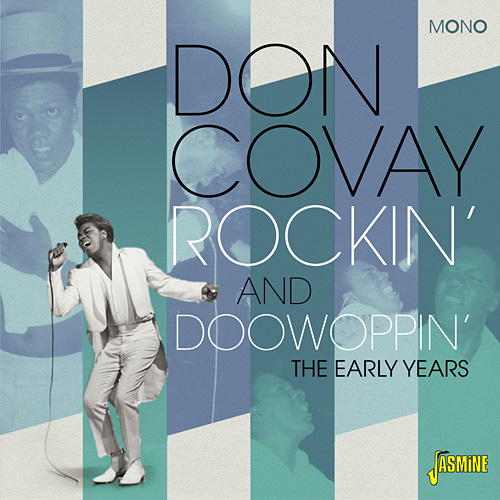 'Mercy Mercy', Sookie Sookie', 'See Saw', 'It's Better To Have And Don't Need', 'I Was Checking Out, She was Checking In' and many more, are the recordings that serious soul fans know Don Covay for. He is also a songwriter of immense talent having written all of the aforementioned and over 500 other songs including classics like Aretha Franklin's 'Chain Of Fools' and Chubby Checker's 'Pony Time'. Alongside Solomon Burke, Wilson Pickett, Otis Redding, Joe Tex and others he fuelled the 60s soul boom around the world and perhaps even more important was his vocal influence over one of the world's best known singers.

Listen to any Rolling Stones recording; especially the early ones and then listen to Don Covay and you'll hear all the same tones, nuances, mannerisms and inflections from Mick Jagger. Don't believe us, just check out the Stones version of 'Mercy Mercy' and you should be convinced. On the other hand check out some of these examples of Don's earliest recorded performances and as far back as 1958 you'll hear a little bit of Jagger. This is the most comprehensive collection of Don's early work ever issued. Here you find that his influences were very much in line with hardcore rock and roll sounds and doo-wop despite his gospel roots. As you'll hear Little Richard was an integral ingredient in some of these early discs.

He was born Donald Randolph on March 24th 1936 in Orangeburg, South Carolina. His father a Baptist preacher died whilst Don was an infant and the family relocated to Washington DC.

his early teens he was singing with The Cherry Keys, his family's gospel quartet and becoming more and more interested in secular music especially the new sounds of close harmony vocal groups. He was invited to join The Rainbows an important DC vocal group by member and chief writer John Berry. The group had enjoyed a strong selling disc in 1955 with 'Mary Lee' on the New York based Red Robin label but when Don joined in 1956 along with Chester Simmons the line-up had changed considerably. Berry, Covay, Simmons and lead singer Ronald Miles recorded next for the Boston based Pilgrim Records and Don's debut on record came with joint lead vocals on 'Stay' with Berry. His contribution to 'Shirley' is in the harmony as are his contributions to the groups next single on New York's Rama label. None of these recordings were hits and the group soon fragmented with several members joining another DC group The Marquees who would eventually become Harvey Fuqua's New Moonglows.

Whilst still with The Rainbows, Don seems to have secured a job as Little Richard's chauffeur. Despite his doo wop credentials it was Richard that Don really idolised and as quickly as Richard dubbed him 'Pretty Boy' he got him a contract with Atlantic Records and in 1957 they released 'Bip Bop Bip', produced by Richard and featuring his outstanding band, The Upsetters. The disc failed to make any impression and Don began a long and rarely lucrative journey through a swathe of independent labels. He used his own name on Sue before returning to the 'Pretty Boy' name on Big. By this time he was effectively enjoying a career as a Little Richard impersonator and whilst record sales were slow he and John Berry began a more lucrative career as songwriters initially placing songs with artists as different as Gene Vincent, Wanda Jackson, Dee Clark and even Connie Francis. His ultimate Richard tribute though is his version of Richard's own 'Ooh My Soul' which although a highly collectable and still revered rock and roll classic was totally ignored at the time of release. The b-side of this disc by the way, although credited to Don is in fact an old Rainbows recording on which he does not appear. A diversion to the Big Top label did not do anything to curb the hit drought that seemed to be a permanent part of his career. The first Big Top single featured songs by the team of Sid Tepper and Roy Bennet who were songwriters affiliated with Big Top's parent company the publishing house, Hill & Range. 'Beauty & the Beast' is about as politically incorrect as you could get with a song in 2014 and wasn't hit material in 1960 either. To be sure though the duo probably gave Don and John some pretty good tips on song writing. Tepper and Bennet are probably most famous for Cliff Richard's hit, 'The Young Ones' and about forty songs featured by Elvis in his various movies. The second Big Top single was altogether on a different level, a fairly straight version of 'Hey There' the showstopper from the hit Broadway musical 'The Pajama Game' coupled with the bluesy original song, 'I'm Coming Down With The Blues'. Little Richard impersonations were now taking a back seat to his ever growing portfolio of hit songs and the encroaching era of soul music.

Don did not get anywhere close to a hit until 1961 when 'Pony Time' was picked up by the tiny Arnold label. Arnold was another outfit based at 1650 Broadway where all the music publishers and labels were based and where Don obviously touted his stream of songs. The disc took off until a cover version suddenly appeared on Philadelphia's Parkway label by Chubby Checker. Don stalled at No 60 on Billboard (although surprisingly managed to hit No 20 on Cashbox without even breaching the Record World 100 chart – something very odd going on there) Chubby of course sailed all the way to No 1 – a win win situation for Don anyway you look at it.

Flushed with this success his song writing took priority and he settled into the Brill Building with scores of other composers and began to attract the attention of the biggest independent R&B labels. Hits came via Gladys Knight and Solomon Burke initially and concurrently he was signed to the major Columbia label under the tutelage of none other than John Hammond. A brace of fine singles ensued as you can hear but none made the chart. In 1962 he was invited to record for Cameo-Parkway in Philadelphia, who maybe thought they owed him one for The Pony Time. There he enjoyed his second chart record with 'The Popeye Waddle' but like all of his other affiliations no more hits followed.

From then until 1964 he concentrated on song writing to much acclaim before signing firstly with Rosemart Records and then Atlantic, which brings us, full circle. He continued to supply songs to Solomon Burke, Wilson Picket and soul artists as well as writing and singing one of the greatest of all soul records ever released in this era, 'I Don't Know What It Is (But It's Got Me)' by his old mentor Little Richard on Vee Jay Records out of Chicago. After his initial fame on Atlantic as a performer he continued to record for Janus, Mercury and Philadelphia International with various degrees of success. In 1980 he made his last appearance on a sales chart with 'Badd Boy' on a label called Newman and in 1986 he guest starred on vocals along with Bobby Womack on the Rolling Stones 'Dirty Work' album. Although he continued writing and performing he wasn't really back in the news again until 1992 when he suffered a serious debilitating stroke which took some years of recovery. The Rolling Stones, who apparently bought him a custom designed rehab van, which he was able to get his wheelchair in and out of with comfort, helped him on his way. By 2000 he was well enough to release an album, 'Adlib', but sadly Don Covay passed away from another fatal stroke on January 31st 2015 at the age of 78.

This is just the first chapter in his 60 year legacy of music, if you want to hear more it's not hard to find.
Bob Fisher, 2015