Sorry item was already sold or does not exist!

Get alerts on your favourite artist
The exclusive book The Rolling Stones Japanese singles & EPs discography is now available here.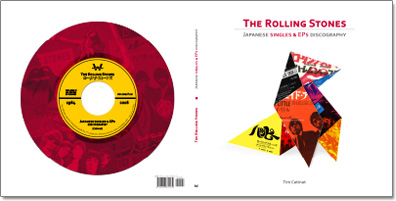 More details on this book here.

ROLLING STONES French EPs
[mostly rare issues in exceptional condition]
-
457.036 Carol - 1969
-
457.036 Carol - 1970
-
457.039 It's All Over Now - 1970
-
457.081 Got Live If You Want It - 1971
-
457.122 Mother's Little Helper - 1966
Jumpin' Jack Flash
Germany, 1976 - 7" PS - Decca DL 25536 / 6.11175 - 70s coupling of DL 25536 cover and 6.11175 record (sold this way at the time) - 'Decca' rim line missing 'Stereo' mentions on labels - 'LC 0171' note - straight GEMA sign - textured picture sleeve - matrices read: 45-XDR-42592-I X Manufactured in Germany / 45-XDR-42593-I X Manufactured in Germany - vg+/vg+ - 10 €
See all items by this artist



* note that if all pictures are of actual items, videos are for information only and may not be representative of the actual recordings/sound on the discs




Browse
Nanook Records daily updated catalogue of set sale collectable records from around the globe :

by artist :
A
B
C
D
E
F
G
H
I
J
K
L
M
N
O
P
Q
R
S
T
U
V
W
X
Y
Z
,
by
records label
or
by genre :
pop_rock
|
hard_rock
|
new wave
|
jazz
|
blues
|
soul
|
experimental
|
soundtrack
|
french
|
classical
|
traditional

About grading
All items are in near mint (nm) condition (highest grade), unless stated.
When 2 grades appear,
cover is graded first, then record
.
Nanook uses a conservative European grading : ss - nm - ex - vg - g, with (+) or (-) indicating slightly better or worse for each grade below nm.
Abreviations are used as follows:
PS = picture sleeve
CS = company sleeve
SS = still sealed
poc = push-out center label
noc = no original center
tol = tear on label
wo(b)c = writing on (back) cover
wol = writing on label
sol / soc= sticker on label / cover
wlp = white label promo
More about...

Note that this catalogue is also available through other major sites where prices are higher due to third parties fees.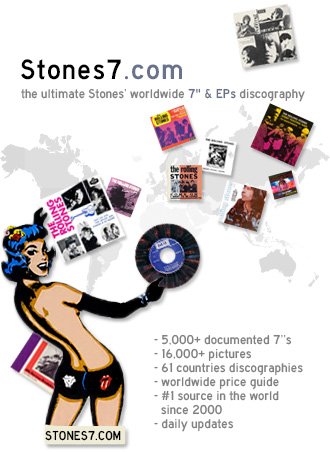 RAREST ROLLING STONES
!

Listen! 7" & mag - EMI VINYL LYN 13214
- promo-only ultra-rare clear 1-sided flexi disc given free w/ 'Vinyl' magazine (issue #11 from June 1983) - Mick Jagger speaks in French to promote the movie 'Let's Spend The Night Together' over a Rolling Stones medley - unique to France and official!