These pages are just a guide to the worldwide discographies of Rupert Hine, Quantum Jump, Thinkman, and other projects involving Rupert Hine as main artist.

Roop's latest related news and official management can be found here.

«Tamboo», Rupert's original and official website which I created in 1997 shut down in 2012, after 15 years of service, but is still accessible as an archive link there [archives mean that a few broken links and techno misbaheviours may occur, yet considerable information can be found through it on Rupert Hine's works, as an artist, songwriter, and producer, including Rupert's comments and interviews on various projects.] .
I wish to thank Rupert Hine for having giving me 'carte blanche' for the creation of his official website in these early days of the internet; this handcrafted beast was such a thrilling challenge and amazing experience.
"Beyond the artist, I could also enjoy the producer in you, a soul naturally able to detect and boost one's idiosyncratic ideas and skills, you clever elegance, always curious and fun. Thanks for the work and fun we shared. Rest in peace my friend."
Tim Catinat, 2020
---
Albums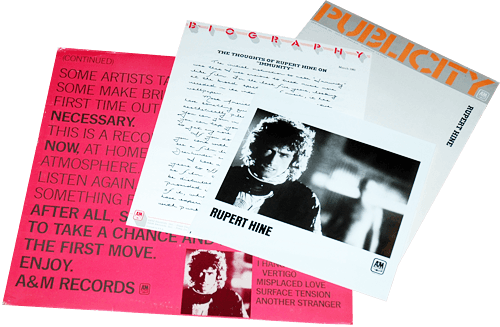 ---
Advanced collector's search

Pick up and compare collectors!
While browsing, click on the green discs signs
to add an item to your collectors bag, then click on the bag sign to display or edit it anytime.
Listings are browsable in different modes [text
, short descriptions & pictures
, gallery -
pictures only - or extended gallery
]
Records for sale
8 records are currently available for sale at Nanook's.
Feel free to offer anything to trade, sale or post your wants on the contact page.