Sorry item was already sold or does not exist!
Nanook
is proud to offer a selection of set sale collectable records from around the globe. The list is updated daily. Search from the above form or browse through
genres
, or
record labels
.

Nanook also enables you to
subscribe to RSS feeds related to your searches criteria
.
This catalogue is also available through other sites like
Gemm
but prices may be higher due to these thirds parties fees.
RAREST ROLLING STONES
!

We were falling in love
, UK 1-sided acetate repro of an unreleased track from 1963! Listen!

Listen! 7" & mag - EMI VINYL LYN 13214
- promo-only ultra-rare clear 1-sided flexi disc given free w/ 'Vinyl' magazine (issue #11 from June 1983) - Mick Jagger speaks in French to promote the movie 'Let's Spend The Night Together' over a Rolling Stones medley - unique to France and official!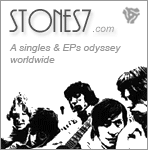 Nanook's video pick*



» The Rolling Stones

Heart Of Stone
Canada - 7" CS - London L.9725 - blue swirls labels - rare issue - vg+ - 16 €
See all items by this artist



* videos are for information only and may not be representative of the actual recordings/sound on the discs




The Rolling Stones : Bridges To Babylon
UK - CD - Virgin CDVX2840 - special limited edition w/ slipcase - this item is brand new, still sealed - second picture below shows how it looks like once opened and therefore is not the actual one - still sealed - 25 €
See all items by this artist


The Rolling Stones : Heart Of Stone
Japan - 7" PS - London HIT 462 - original first pressing from 1965 in the originally 330¥ priced picture cover - unique artwork worldwide - also includes its pink London generic inner sleeve - matrices read: DSt 1055-1-1-4 / DSt 1056-1 - m-/m- small promo sticker on labels - rare condition - 98 €
See all items by this artist



Sign Up / Log In
Get automatic updates on your favourite artists via email, check current order status, edit your account...
Advanced search
Browsing
About Nanook / FAQ
Grading
All items are in near mint (nm) condition (highest grade), unless stated. When 2 grades appear,
cover is graded first, then record
.
Read more...
Pay secure with